Whether buying new or upgrading, Jim's Security is a fully accredited member of the Jim's Group and all work completed is backed by the Jim's Group $1M work guarantee. We provide the latest innovations, working in conjunction with the biggest and best brands to ensure our solutions are cutting edge and reliable. Police checked franchisees are approved by the largest franchise group in Australia. WHY WOULD YOU CHOOSE ANYONE ELSE?
The team at Jim's Security can design a system to secure your home or business using the latest technology from a range of suppliers. We offer both wired and wireless systems and your alarm can connected to 24/7 back to base monitoring for the highest level of protection, and for those that prefer to self-monitor we offer devices that utilise cloud-based IP/GPRS monitoring.
At Jim's we believe the highest level of security should combine intrusion detection with CCTV so we also offer packages that combine both of these technologies. At Jim's we work with a range of security hardware and will always recommend the best system for the job, this includes Bosch, 2GIG, Hills, Yale, Ness and Risco. Your customised security system will be installed by a fully qualified, licensed and police checked Jim's franchisee.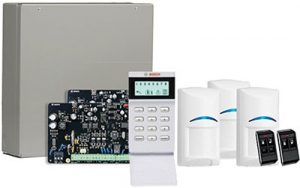 Bosch is one of the most widely distributed security brands in the Australian market and globally. Thousands of Australian homes and businesses alike use Bosch alarms for the simple fact that they are simple to use and reliable.
Bosch has a significant Australian presence with local R&D and product support and also number of components manufactured locally. Our team can customise a Bosch system for your home or business starting with the packages below.
Choose your Bosch Package

STANDARD


Supply & Install



from $695*
INTERACTIVE


Supply & Install



from $1095*
INTERACTIVE + CCTV


Supply & Install



from $2290*

Licenced & Police Checked Installers

Entry Detection (Reed switches)

Optional Wireless Detection

Cloud Connected Mobile App**

Self monitor at no cost**

2 CAMERA DAHUA CCTV SYSTEM INCLUDED
* Suitable for single storey homes with roof space access, wireless options available
** Internet connection required
Paradox Security systems widely distributed in Australia and Globally, manufacture innovative and quality alarm products. Paradox alarm systems feature reliable communication technology, flexible expansion and great-looking keypads, and an extensive range of wireless detection devices.
The range includes the Magellan Hybrid Wireless alarm panel which is one of a kind with an inbuilt receiver that allows you to combine both wired and wireless devices. This is the ideal security system for any domestic or commercial installations that require up to 32 zones of protection.
Paradox Magellan Hybrid Alarm Package
Hikvision Security Systems
Hikvision offers a wide range of alarm products suitable for both domestic and commercial installation.
The following package combines Hikvision's AX Pro alarm with the brand's renowned CCTV technology to provide a comprehensive security solution. Hikvision is one of the few brands that manufactures both alarms and CCTV – making the ability to remotely manage information from the alarm system and CCTV cameras in one place (through the Hik-Connect mobile app) an attractive feature.
Hikvision Alarm & CCTV Package
Do you have a problem with an existing alarm system? We can fix this for you, click below for more information.
Frequently Asked Questions