Paradox Security systems widely distributed in Australia and Globally, manufacture innovative and quality alarm products. Paradox alarm systems feature reliable communication technology, flexible expansion and great-looking keypads, and an extensive range of wireless detection devices. Their products are designed with competitive features and provides their users with  personalised quality alarm systems. 
Jim's Security Offers the Following Paradox Packages:
Paradox Magellan Hybrid Alarm Package
The Magellan Hybrid Wireless alarm panel is one of a kind with an inbuilt receiver that allows you to combine both wired and wireless devices. This is the ideal security system for any domestic or commercial installations that require up to 32 zones of protection and may have limited access to run cables for hard wired devices.
Paradox Magellan Hybrid Alarm Package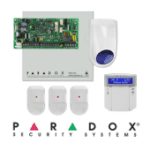 Paradox Local Alarm Package
The Paradox Local Alarm Package is a quality alarm package from Paradox, including dual-tech PIR sensors which detectors combine the best of infrared and microwave detection technology, preventing false alarms.
Paradox Local Alarm Package