There is no simple answer to the question "How Much Will a CCTV System Cost?". 
The build of different homes and businesses will vary in degrees of difficulty, time and materials required to complete an installation, while different CCTV systems will vary in features and functionality thus affecting price.
Generally, the cost of a installing a new CCTV system can be boiled down to two key factors: 
Type of Hardware Used
Complexity of the Installation 
In this article we'll break down the above cost factors to help give you a general idea of how much you should expect to spend when investing in a new CCTV system. 
CCTV systems are composed of two main components: Security Cameras and a Recorder.
CCTV Cameras typically cost from $150 to $300 for domestic installation and $300+ for commercial for a commercial installation.
Major Price Factors for the Cost of CCTV Include: 
Whether Cameras are Digital or Analogue

The Number Megapixels 

The Type of Low Light Technology 

Whether the Lens is Fixed or Varifocal


Brand 

Number of Cameras Required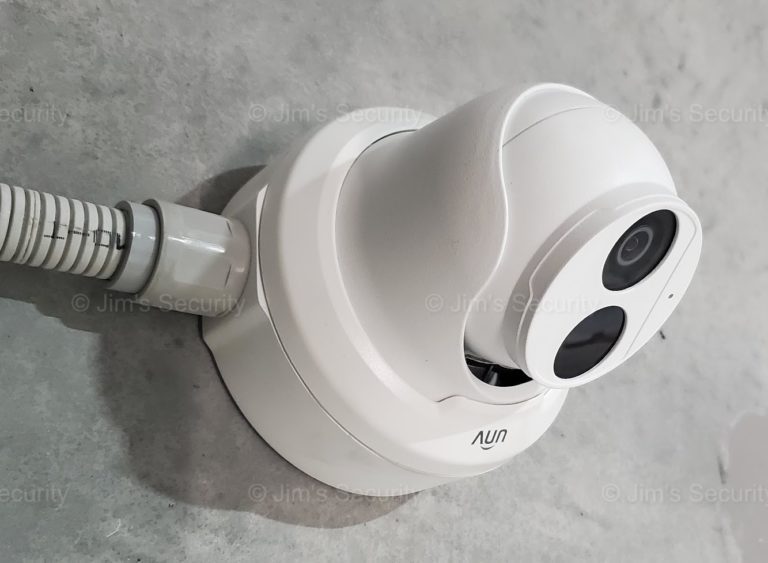 Digital or IP cameras are typically more expensive than their analogue counterparts, with each camera usually costing around $150 more. 
While these cameras are a fair amount cheaper, they are often considered inferior to IP due to their compromised image quality and inability to integrate Power over Ethernet (PoE) among several other disadvantages.
If tossing up between Digital or Analogue CCTV we'd recommend choosing Digital as these cameras offer long term value for money by providing superior image quality and higher frame rates, using ethernet cables and PoE and encrypting video. 
High resolution products i.e. cameras with a greater number of megapixels (e.g. 6MP or 8MP) are generally more expensive. The recordings from these cameras also take up more storage space, potentially increasing fees if paying for cloud storage. 
While lower resolution cameras (2MP – 5MP) are usually suitable for domestic installation, high resolution CCTV cameras are more appropriate for commercial installations due to their ability to capture fine detail and enhanced zooming capabilities. 
Type of Low Light Technology 
There are two main types of low light technology: Infrared (IR) and Starlight. Starlight tends to be a bit more pricey than IR as these cameras include more sophisticated technology which allows them to use natural light, rather than infrared light, to produce a coloured image. 
Despite the initial cost, starlight cameras tend to be more cost effective in the long run as use significantly less energy. 
It is important to keep in mind that the cost of a Starlight camera will greatly depend on your lux level requirements. Many popular brands such as Tiandy and Dahua offer different levels of 'Starlight' to cater to different needs (e.g. domestic vs commercial/street light vs total darkness). 
Lastly, many of these cost factors are intertwined – for example a camera's resolution will affect its night vision ability. High resolution night cameras often have poorer night vision as more megapixels means that the pixels are smaller and therefore have smaller light sensitive elements.  
For domestic installs 2MP – 5MP cameras are suitable for both day time and night time recording, while for larger businesses a mix of high resolution and low resolution cameras is usually required.
A fixed lens is usually cheaper than a varifocal lens camera, as its field of view (FoV) cannot be adjusted. For most domestic installations we use fixed lens CCTV cameras as our trained security technicians are experts in correctly positioning cameras to achieve the best possible field of view (eliminating the need to adjust FoV) and ensuring that all key areas of the property are captured. 
As such, varifocal lenses are more popular when it comes to large commercial installs. For this lens type there are two options: a manual lens and a motorised lens. Unsurprisingly, motorised lenses tend to cost a bit more than manual.  
Different brands offer security cameras at different price points depending on their software and hardware. For example, while Dahua is a reliable and proven entry level brand, Hikvision offers more premium products (suitable to high end domestic and commercial installation) at a higher cost. Other brands we stock here at Jim's Security fall in between these two price points. 
Number of Cameras Required
While this may seem like an obvious point, you may need additional cameras to properly secure your home or business and ensure that there are no blindspots. Additionally, you may require a mixture of different types of cameras (e.g. low resolution for clear night vision and high resolution for sharp day time vision) to meet your security requirements. 
More cameras also mean higher hardware costs when it comes to NVRs  (i.e. 8 channel NVR vs 6 channel). This will be further discussed in the following section. 
At entry level, a NVR or DVR can be purchased from $300, but, of course, more advanced products tend to cost more. 
Major Price Factors for the Cost of a Recording Device Include:
NVR vs DVR 

Number of Channels 

Supported Analytics


Storage Requirements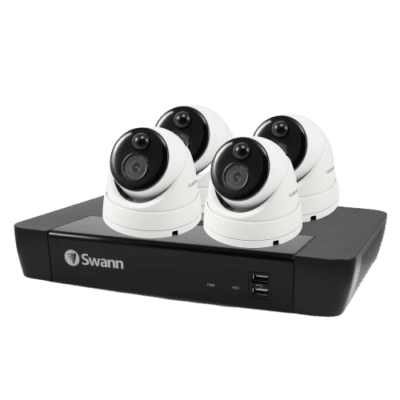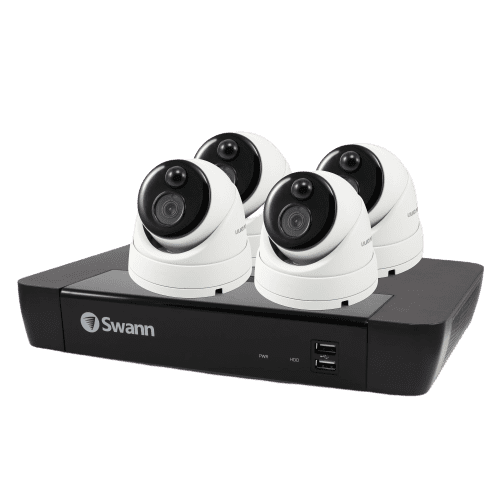 DVRs are typically cheaper than NVRs. This is because, to put it simply, if you have a DVR your system will use analogue cameras and if you have an NVR recorder your cameras will be IP based (digital). While IP Cameras are seen as new and advanced technology, analogue cameras are typically regarded as old, traditional technology.
However, although the hardware for DVRs tends to be cheaper, DVRs/analogue cameras are more costly to install as they require extra materials and labor. This is because for analogue cameras a cable must be run between every camera and the recorder.
To understand more about the differences between NVRs and DVRs check out our Swann DVR vs NVR article. 
When it comes to DVRs, you can think of the number of channels a recorder has, as the number of cameras it is able to support. For example an 8 channel DVR recorder will have 8 cameras. Of course, the more channels, the more expensive. 
A large number of channels is usually more expensive to achieve on a DVR because the recorder can only support cameras in relation to the number of ports it has (each camera must be wired separately). 
On the other hand, a NVR can use Power over Ethernet (PoE) to connect more security cameras than the number of ports back to the recorder. For example, an 8 channel NVR recorder may be able to support 10 channels using a PoE switch. 
It would come as no surprise that more advanced analytics tend to cost more. This is because advanced analytics such as Intelligent Video Surveillance (IVS) require more processing power than standard analytics and higher end NVRs typically have 'better' or more sophisticated analytics. 
Many popular brands like Hikvision and Dahua offer a broad range of analytics (each of which vary in the features they offer) to meet different security requirements at different price points. While others such as Swann Security offer a standard set of analytics across all cameras – generally making these systems cheaper and more suited to domestic installations. 
The cost of storage will depend on the size of Hard Drive you need and bandwidth required. The amount of bandwidth directly relates to camera video quality. Generally, the higher the quality, the higher the bandwidth and need for storage space.  
For a domestic installation we generally suggest 2TB of storage for a 4MP and 6MP system and 3-4TB for an 8MP system. If interested, you can use this video storage calculator  to help you estimate how much storage may be needed for your surveillance system.
At Jim's Security professional installation starts from $150 per camera (standard installation), however there are a few factors which may increase this cost. 
Major Price Factors for the Cost of Installation Include: 
Construction of Home 

Flat vs Pitched Roof 

Roof Access 

Location of NVR/DVR 

Distance between Cameras and NVR/DVR 


Analogue or IP based System (cabling)
Click here to read more in depth about the factors influencing the cost of professional installation.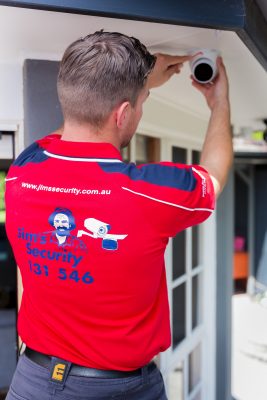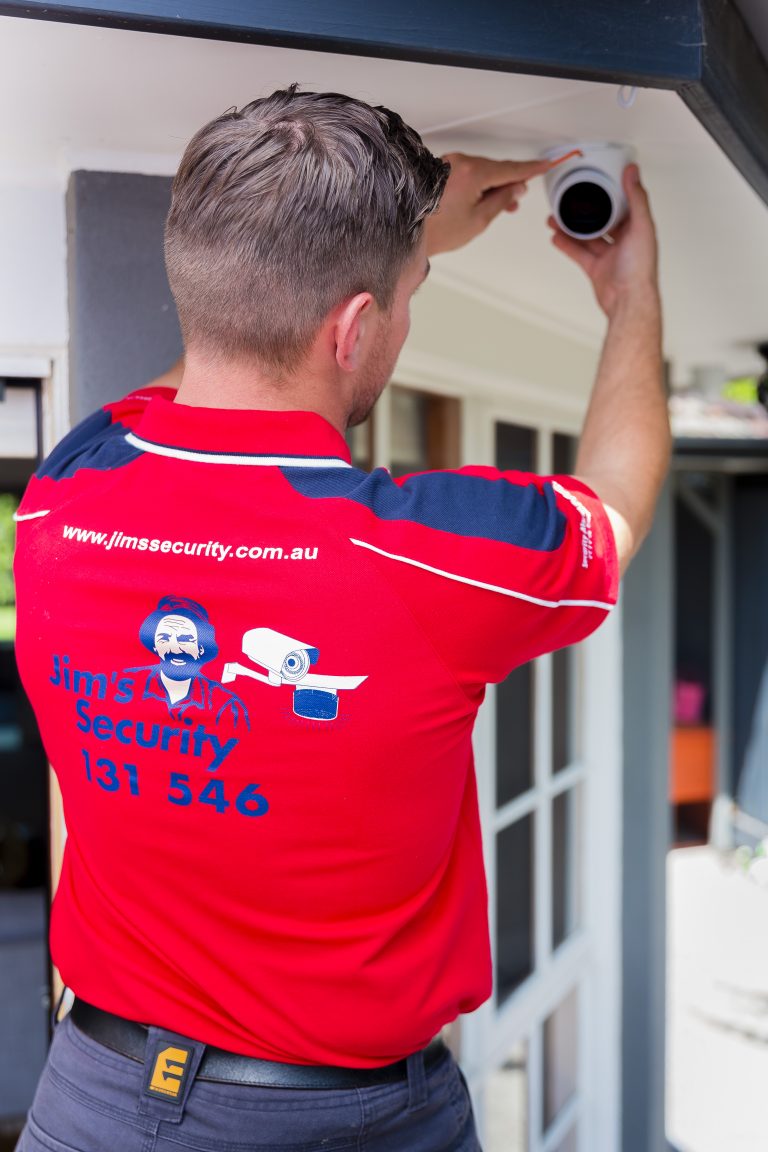 Overall, there's no simple answer to the question of how much a CCTV System should cost. In reality, the price of your CCTV system will largely depend on situational requirements regarding your property (e.g. lux levels or construction of building) and personal preferences for some features over others.
Our final piece of advice is that when looking to buy a CCTV system don't be tempted by wireless solutions. While these security systems may be dirt cheap, they usually end up costing customers more in the long run due to missing key events (DIY cameras are unable to continuously record), often not being set up properly and the inconvenience of forever having to replace batteries.
Here at Jim's Security we have packages for professional grade NVR CCTV systems starting from just $1595. This includes four 6MP IP cameras, 1TB of storage and a NVR with Smart Analytics. We also offer a wide range of CCTV brands and packages. To find out more don't hesitate to give us a call on 131 546, or book a free onsite no obligation quote online.