All too often, customers put too much focus on resolution and ignore other important factors when looking for a CCTV camera system.
While high resolution cameras (i.e. 6-8MP) excel at capturing detail such as number plates from a great distance, a disadvantage of high resolution is that pixels are smaller and therefore have smaller light sensitive elements (i.e. reduced area available to capture light). 
This means that while a high megapixel camera is likely to be more effective at capturing detail during the day, it is actually often less effective than a camera with fewer megapixels at night. 
Colour reproduction, low light performance and the ability of your CCTV cameras to handle high contrast scenes are all affected by pixel size.
To try and compensate for these effects, some cameras use a slower shutter speed. However, this can cause light trails and blurry images.
The example image on the right compares the coloured night vision of  a Tiandy 2MP Super Starlight Dome and 5MP Starlight Dome. As you can see, the camera with lower resolution actually produces a better quality starlight image. 
Tiandy's Super Starlight feature integrates extreme low-light technology to provide exceptionally clear and high-resolution images at extremely low light levels. These cameras are able to record coloured image at 0.0008 Lux (close to complete darkness) using a high frame rate of 25 frames per second (FPS) to capture smooth motion, avoid the blurring of moving objects and ensure that important events are not missed.
On the other hand a standard Tiandy starlight camera can capture a coloured image at 0.002 Lux – meaning it requires more light.
Other popular brands such as Dahua typically offer Lux levels between 0.002 and 0.005.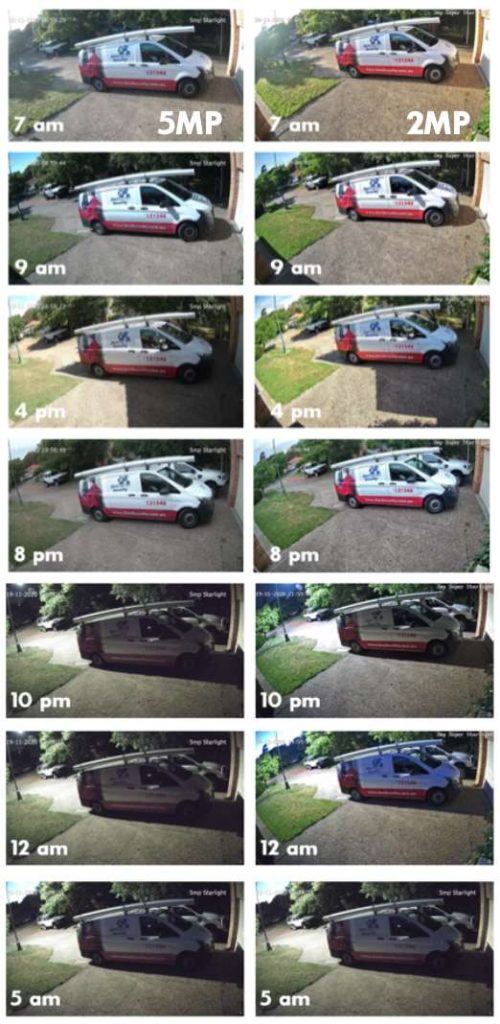 Generally, if looking for a low light camera, we'd recommend opting for a 2MP camera over a 5MP one. However, the lux level you require will depend largely upon how much light is available in the scene you are trying to capture. 
For advice on a CCTV camera system for your home or business contact us on 131 546 or book a free onsite quote online. To have a look at the camera systems we offer visit our CCTV & Camera Systems page