The best home security camera system is easy to use, offers high-resolution coloured images day and night, supports both cloud and local storage and, most importantly, will alert you as soon as a security event is detected. This year's best security camera systems also boast active deterrence features to prevent crime before it happens, rather than passively recording an event, and allow users to view live camera footage 24/7. Generally speaking better camera systems will be IP, rather than analogue and are typically wired, rather than wireless (however, there are some exceptions to this, which we will discuss below).
Here at Jim's Security, we don't believe in a one-size-fits all approach to security. Instead, we prefer to tailor security camera systems to the layout of each property and the unique requirements of out customers. We have therefore written this article according to CCTV systems which best fit common camera requests and requirements we receive from our customers.
The Dahua WizSense is a great entry level product. This camera system includes Dahua's Smart Motion technology (SMD) to prevent time consuming and costly false alarms by only triggering an alarm if a human or vehicle is detected. Dahua's Wizsense cameras also include inbuilt infrared and basic starlight technology, providing coloured images in low light conditions, as well as one way audio. This range is available in a number of resolutions and camera forms – making Wizsense cameras applicable to most domestic installation scenarios and great choice for those on a budget.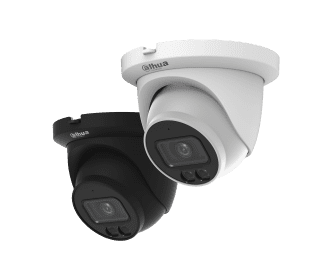 Swann's 4 Camera 8 Channel 4K Ultra HF NVR security system packs a lot of features into a single package, including: outstanding resolution (4K), White Light LED/Spotlight functionality, Advanced Analytics, Local Storage and the option of Cloud Backup, 2 way audio,True Detect Smart heat and motion sensing and digital zoom. This package is perfect for those who want the option of upgrading their security system in the future – as there is space for 4 extra cameras on the existing NVR if required.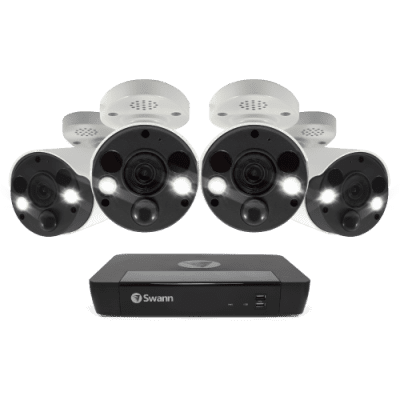 Uniview's 5MP Prime range is another great all around system. These cameras have a resolution which is  high enough  to capture detailed images during the day, but also low enough to capture high quality images at night time. Through starlight technology, these cameras are able to provide a coloured image at night, capturing extra details which are not possible with standard infrared night vision technology. Uniview's prime range also support useful analytics including motion detection, intrusion detection and cross-line detection to enhance alarm accuracy.
Hikvision's 4MP ColorVu turret cameras provide exceptional low-light footage. Supporting full colour recording in up to 0.005 lux or 0 lux when using its inbuilt white light. This camera system is well-suited to those  living in rural or remote properties or areas without street lights.
Don't let the ColorVu's mid-range resolution fool you! While high resolution cameras (6-8MP) excel at capturing details such as number plates from long distances, they often have poorer night vision capabilities compared to their lower resolution counterparts – making cameras with a lower resolution more appropriate for capturing footage at night. 
Swann's Wireless Extreme is 100% wire-free with a long rechargeable battery life of up to 6-months and includes Heat & Motion sensing, night vision, smart mobile alerts, 2-way talk and free cloud and local recording. While we generally recommend wired over wireless systems, Swann's wireless extreme is a great option for those who are unable to have wired cameras fitted due to reasons such as temporarily renting a property.
In addition to 24/7 colour recording, Dahua's TiOC cameras include a red and blue flashing light, and a 110dB siren to ward off potential intruders before an incident has time to occur. These Active Deterrence features go hand in hand with Dahua's AI powered perimeter protection and Smart Motion Detection (SMD). Two functions which work together to promote accurate alarm function by distinguishing false alarm triggers (e.g. car headlights, pets and falling leaves) from real targets (humans and vehicles).
Empowered by deep learning algorithms, Hikvision's AcuSense Technology is able to distinguish people and vehicles from other moving objects, such as falling leaves or small animals. While this feature is used to prevent false alarms, unique to Hikvision, footage can be sorted into human and vehicle categories to improve search efficiency. Visual and auditory active deterrence warnings add a second layer of protection to this camera system. Due to their advanced analytics  Hikvision's AcuSense cameras are typically better suited to commercial rather than domestic application.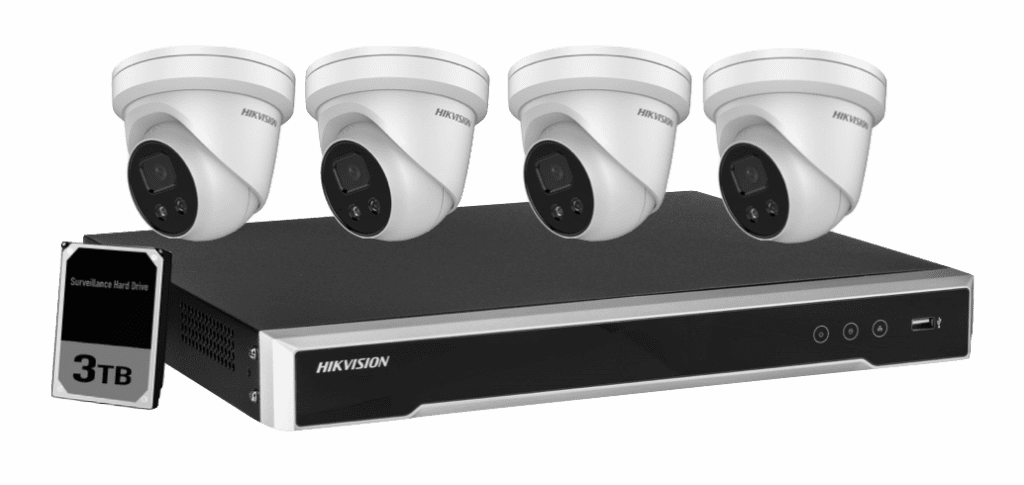 Ultimately, the best security camera system for your home will depend on personal preference and requirements as well as the layout of your property. But, don't let the wide range of options out there overwhelm you! If unsure about which camera system is best for your requirements and property have a look at our CCTV Buyers' guide or CCTV and Camera Systems page.  For further assistance or help installing a new CCTV camera system don't hesitate to give us a call on  131 546 or book a free onsite no obligation quote.