The world is busy adjusting to the 'new normal', and the security industry is no different. 
The emergence of new and improved technologies has the security industry continuing the shift from your traditional basic alarm and surveillance products towards an all-encompassing, problem-solving solution that endeavours to do more than simply monitor your home or business.
Let's have a look at some of the latest trends in the Security Industry that are expected to lead the way in 2022.
1. AI Powered Analytics for Entry Level and Residential Products
Advancements in the field of camera analytics and A.I. across the board have made impressive new active deterrence features more affordable and readily available than ever.
One of the constant criticisms of the basic surveillance systems was their ineffective motion detect capabilities and inability to efficiently notify users as an incident was occurring. This lead to the all too common scenario where a burglar could potentially break in undeterred, and all you're left with is footage of them walking away with your valuables.
New camera ranges, like the Dahua TiOC 2.0, combine several different AI features into a single camera, and are designed to enhance the user's ability to actively deter crime. Features range from flashing lights and an audible siren emitted from the camera if motion is detected out of hours, to smart motion and cross line detection analytics are designed to eliminate false motion triggers and only alert you when a vehicle or human target is in frame. These options are cost effective and can be added to enhance the way you use your CCTV surveillance system. 
2. Low-Light Technologies
One of the most rapidly advancing avenues of video surveillance in 2022 is the improvement in the performance of low light cameras.
In the past, traditional security cameras have had lower visibility in darker environments or at night-time, and were only able to record record in basic black & white.
Technological innovations in this area have provided users with high resolution, full colour recordings around the clock, without the need for supplemental lighting. This makes it easier to identify a potential perpetrator in the event of an incident or break-in, by being able to determine things like the individual's complexion, hair colour and the colour of their clothes and vehicle, the list goes on….
While different manufacturers have different names for this technology (e.g. Dahua's ColourVu or Hikvision's Darkfighter) all of our core CCTV packages in 2022  come equipped with various forms of low-light technology, designed to suit all budgets and requirements. To determine which option is best for you, speak to your local Jim's Security Expert today.
3. Wireless and Integrated Security
While Wireless Cameras continue to have certain reliability constraints as they are solely reliant on the strength of the local wifi connection, Wireless Alarm Systems will continue to make exciting inroads in 2022.
The catalogue of wireless alarm systems is constantly expanding. Installations are simplified with no need to drill invasive holes or run cables, peripherals and sensors are easy to maintain and come with an average of 3-5 year battery life, and the radio frequency connections are reliably proven through constant sensor-to-panel supervision and jam detection.
When it comes to wireless devices the possibilities made available through the Internet of Things (IoT) have already been widely embraced by the Security Industry. However, more recent trends include the growing ability of security solutions to be integrated with home automation features through Z-Wave and Zigby and the use of Cloud Integration to support video streaming and storage.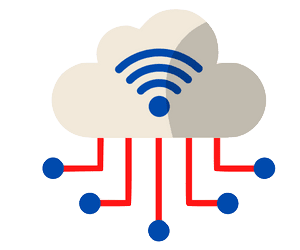 In addition to home automation, integration between different security measures to create a holistic security solution is becoming more prevalent in 2022. With platforms like Hikvision's 'Hik-Connect' giving users the capacity to control and view their cameras, intercom and alarm system through a single, no subscription required, easy-to-use solution.
2022 is set to bring many new and exciting changes to the security industry with an emphasis on troubleshooting issues that consumers have experienced in the past. Speak to your Jim's Security expert today to discuss your options today!