In the first half of this year, Australians have faced the challenging situation of constant cost-of-living increases and multiple rate rises. Unfortunately, this has contributed to a rise in crime, with burglary and motor vehicle theft being two key areas significantly affected. According to the ABS, these crimes have increased by as much as 11%. Given these circumstances, the importance of home security has reached an all-time high.
Thankfully, with the advent of innovative, cutting-edge technologies, there are new safe and effective solutions available to safeguard properties and loved ones, which are more accessible and affordable to Australians than ever before. Let's explore some of the latest trends in home security measures.
Smart, Integrated Security Systems
Smart home security systems have revolutionized the way we protect our homes. These systems integrate various devices and sensors to create a cohesive and interconnected security network. The centerpiece of such systems is often a central hub that allows homeowners to control and monitor their security from anywhere.
The Hikvision HikConnect Ecosystem is a great, cost-effective way to control all elements of your home security system through one easy-to-use app. Hikvision has a range of cameras, alarm systems and intercom options to manage and control everything from your smart device. View and playback cameras, arm/disarm your alarm system and see who's at your front door – all with no subscription required – all through the HikConnect platform. Hik-connect also enables basic home automation for garage doors etc. Check out one of Jim's most popular integrated home security packages here or speak to your local Jim's Security expert today to learn more.
CCTV Surveillance Technologies
Home CCTV use in Australia has seen a significant rise in recent years, becoming an integral part of many households' security measures. With increasing concerns about burglary and property-related crimes, Australians have turned to CCTV systems as a reliable means of protecting their homes and loved ones. Homeowners now have access to high quality, functional and reliable surveillance solutions including high-resolution cameras, AI-powered analytics, active deterrence features.
Jim's most popular CCTV Package includes high resolution image, effective low-light night vision performance and is powered by Dahua's Wizsense technology, which is an AI-powered technology that enhances video analytics for more accurate and efficient security monitoring. This package also enables customers to upgrade some (or all) of their cameras to Dahua TiOC 2.0 Active Deterrence cameras for increased protection.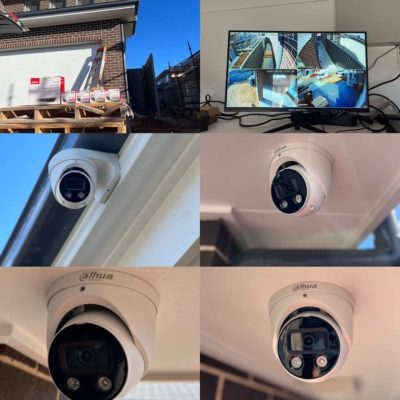 Out with the old, in with the new
Many Australian homes have a base level of protection. Upgrading or updating home security measures is a crucial step in ensuring the safety and protection of your property. As technology has continued to advance, the functionality and capabilities of security systems have increased – whilst the cost of installing said systems has become surprisingly affordable. By investing in the latest trends, such as smart home security systems with AI-powered cameras, homeowners can significantly improve the effectiveness of their security setup and ensure the home remains a safe haven for all. 
In conclusion, securing your home in 2023 has never been more important, and fortunately, there is a wealth of cutting-edge technology and innovative solutions available to Australian homeowners. Embracing the latest trends in home security installation empowers us to create robust defenses against potential threats. Staying ahead of the curve ensures that our homes remain safe and secure in the face of evolving challenges.
Contact your local Jim's Security technician today to discuss how to best secure your home.