Empowered by deep learning algorithms, Hikvision's AcuSense Technology is able to distinguish people and vehicles from other moving objects, such as falling leaves or small animals. While originally created with the purpose of preventing false alarms, AcuSense Technology offers users several other key benefits. 
Hikvision's AcuSense technology focuses on human and vehicle events in two key ways: 
a device will only trigger an alarm when the preset intrusion type (human or vehicle) takes place

videos related to alarm events are sorted into human and vehicle categories for easier footage searches and to improve search efficiency 
Now that you understand the basics of AcuSense, we will go on to discuss the video analytics available in Hikvision's AcuSense range. 
Analytics offered by a standard AcuSense camera include: 
A basic event motion detection simply involves the camera comparing sequential video frames to determine whether there has been any movement within a scene.
Video tampering detection can be used to recognise if an area of a camera has been purposely covered or blocked. If your camera detects that an intruder is trying to knock it down or block its view, it will automatically alert you or your security centre that its ability to record has been impacted. 
If your alarm does not have an inbuilt speaker, you can connect an external speaker, PA system or powered horn to your camera's output. When connected, users can link their output to a smart event to trigger an audible alarm if a pre-set line is crossed or a marked zone is entered. 
Users can also choose to select a voice message such as 'Attention Please. The area is under surveillance' or 'Warning, this is a restricted area', in the event that an alarm is triggered. 
The period during which an alarm is active, the number of times it is sounded and its volume can also be customised. 
*Note: Newer versions of Hikvision AcuSense cameras have an inbuilt flashing light and speaker, meaning you do not need to purchase an external output to use the siren. These features make for a great deterrent, and will also attract an intruder's attention towards the camera – making sure that a clear image of their face is captured.  
Scene change detection is another method of tampering detection. This smart feature will register if someone changes the camera's viewing direction, so that the camera captures a different scene. The camera will automatically detect this event and will trigger alarms or recording if pre-configured.
Intrusion Detection allows users to map out a specific area in a scene that they don't want people or vehicles to enter. To further enhance the capabilities of Video Content Analysis (VCA) users can select maximum and minimum sizes for objects that can trigger an intrusion detection alert. This helps to eliminate false alarms triggered by small animals such as birds or foxes and interference such as reflections off cars or puddles. 
Hikvision also allows users to customise their threshold time, the amount of time an object or person has to be in an area before an alarm is triggered. To limit the possibility of false alarms, it is generally recommended that users set the threshold to approximately 5 seconds. That being said, an appropriate threshold time will also largely depend on the application scenario. 
The intrusion detection analytic also has an arming schedule component, where the user can select the specific times they'd like to have a selected area armed. For example, if a shop is open during the day they  may choose to have intrusion detection disabled from 9am – 7pm, but enable this feature from 7pm – 8am. 
Finally, users can choose a linkage method – this is how your camera system will contact you in the case that an alarm is triggered. Linkage methods vary from: an audible warning and sending email to notifying a surveillance centre.
Line Crossing Detection allows users to draw a line across a specific area in a scene that they don't want people or vehicles to cross. This feature also allows users to choose the direction of the line, meaning that you can choose to have an alarm triggered if a person or vehicle is either crossing a line to enter an area or crossing a line to exit an area, or can have it set to both ways. 
Hikvision's AcuSense range allows users to draw up to 4 lines and 4 intrusion detection boxes.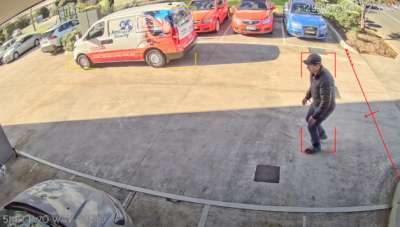 Region Entrance Detection
Region entrance detection function detects people, vehicles or other objects which enter a predefined restricted zone. 
*Note: The region entrance detection function varies according to different camera mode
Region Exiting Detection detects people, vehicles or other objects which exit from a predefined virtual region, triggering an alarm once the object exits the defined zone.
AcuSense technology can be used both at the level of the camera or the recorder. If interested in buying a new camera system keep in mind that it is only necessary to purchase either a camera or a NVR with Acusense Technology. Buying both is unnecessary, as this will give you two sets of analytics (which are mostly the same). 
The only difference is that if you choose a camera with AcuSense technology the analytics are processed at the camera, while a NVR with AcuSense technology  encodes and processes video data at the camera, before it is streamed to the NVR recorder, where the analytics are then applied to the footage.
Here at Jim's Security we offer a wide range of CCTV packages.
For exceptional service with a smile, competitive prices and quality installations and repairs, don't hesitate to give us a call on 131 546, or book a free onsite no obligation quote online.