CCTV cameras, security alarms and motion sensors are vital components of any security system, and they all have one thing in common. They require power to function.
But what about if the power is cut or there's a black out? Will you, your home and your belongings still be protected?
While it is commonplace to implement a home security system, the hardwire required to protect this equipment in the case of a power failure is often easily forgotten about.
If power protection is not provided to CCTV cameras, alarms and motion sensors, these devices will become vulnerable to electrical damage and will be made redundant during a power outage.
On a recent job, Daniel from Jim's Security Adelaide was asked to upgrade client' security system due to fears over recent burglaries in the area. In response to his customer's concerns Daniel began by installing a Powershield Safe Guard 750VA UPS.
An Uninterruptible Power Supply (UPS) will provide a consistent amount of power to the CCTV system in the event of an unexpected power outage. The Powershield Safe Guard 750VA UPS will back up Daniel's client's four camera system for approximately one hour and prevent damage to his CCTV equipment by power surges, spikes and black outs.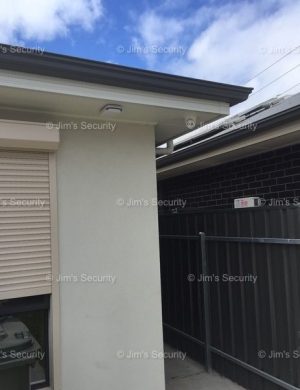 During this job, Daniel's client also requested that his two front cameras be upgraded to 8MP Dahua cameras and two back cameras be upgraded to 6MP Dahua cameras. While standard CCTV kits are often only include 6MP cameras, 8MP cameras provide an additional 2 million megapixels.
This allows for better night time vision and clearer zooming capabilities in the event of an incident. For example, the ability to identify details such as car number plates – which might not be picked up by a 6MP camera. As such, the 8MP cameras were placed at the front of the house, as it is likely that more important details are likely to be picked up from this vantage point.
Daniel's client can now rest easy, knowing that his security system will provide failure-free protection.
If you're thinking about upgrading your security system, why not give us a call? Contact us on 131 546 or book a free onsite quote.