With Summer holidays fast approaching many families will be travelling during the Christmas period and with 4.3% of Australian households having experienced at least 1 break-in (or attempted break-in) during the last 12 months (budgetdirect.com.au) it's important that your property is protected.
Whether you have a single or double storey at Jim's Antennas our team work closely with our licensed Security experts to assist clients with the installation of CCTV Security & Security Cameras, Security Alarms, Video Intercoms and Access Control. Our experts will provide you with a customised assessment of security options that best suit your property structure and budget.
And at Jim's we love a challenge. When other companies say it can't be done; we say bring it on!
Michael from Jim's Antennas & Jim's Security South Morang received a call from a customer who wanted 4mp Starlight Cameras installed on their double storey town house. They had been told by another company that it couldn't be done because the double storey house and weatherboard make it hard to run cables.
In this case the customer wanted cameras at the front door, driveway and inside the hallway. The challenge here is running the cables between the roof of the 1st floor and the floor of the 2nd floor. With a little investigation Michael found that this would be possible with a little patience and some clever cabling techniques.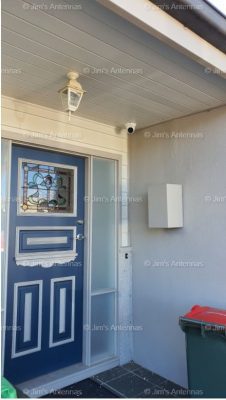 This is not always possible to achieve, but some will not even attempt to look at this as it's not the standard single-story house. At Jim's Antennas & Jim's Security we will always do our best to work with our customers to provide them with a security solution tailored to their needs.
So, if you are going away these Summer holidays and your property is not protected, call 131 546 or book here to arrange your free onsite, no obligation quote today.