Ring, Hikvision and Dahua are popular names when it comes to the video intercom/doorbell market. While they are all producing products that allow you to monitor and answer your door remotely, there are a number of key differences between the 'doorbells' or intercoms made by each brand. The first, and perhaps most obvious difference being that while Ring is targeted to the DIY consumer, Dahua and Hikvision produce professional security-grade solutions. 
In this article we will go on to further explain the differences between Ring's doorbells and Dahua and Hikvision's intercoms by discussing the pros and cons of each range. In doing so, we hope to help you decide which is the best option for you and your home or business. 
If you've already made up your mind about which system you'd like installed, or require further assistance choosing, don't hesitate to give us a call on 131 546, or book a free onsite no obligation quote online.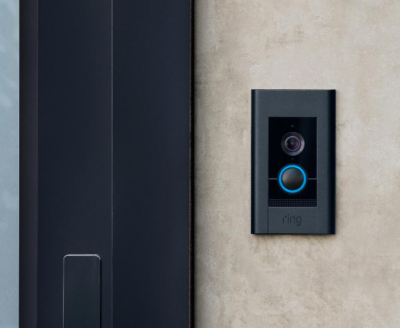 Ring's Video Doorbell Elite
Battery Versions are DIY Installation
There's no need to pay extra for installation, as in theory, the customer should be easily able to complete the installation themselves. While this is often a key selling point, if you are buying a DIY doorbell, be sure you have installed it correctly, as an incorrectly installed intercom can pose serious security threats.
Battery Versions can be Cheaper than Wired Intercoms
Battery models are cheaper than wired intercoms as they do not require installation and consist of less components, however as you will read below, there are some trade-offs to this pro.
Ring's Doorbell products do not include internal monitors, meaning that you need a smartphone to view and answer the door. Hikvision & Dahua intercom packages supplied by Jim's Security include a dedicated internal monitor which comes in handy when the doorbell is ringing but you can't find your phone. If using a Ring Doorbell and wanting to monitor your intercom on another device such as your TV , you will need to purchase and connect an additional Amazon product such as the Amazon Echo or Fire Stick. 
Wireless Versions Rely on Batteries
Professional grade intercoms are connected to a continuous power-supply and include back-up batteries in the case of a power-outage. DIY intercoms rely on batteries, which require recharging or replacing and can go flat unexpectedly, rendering the intercom system useless. 
DIY Door Station Options are Not Vandal-Proof
Ring's range of DIY doorbells are unfortunately prone to being stolen. As the doorbells are made to be self-installed they are held in place by only a few thin wires and two screws, meaning attachment to the door is often not secure enough. This may make them a target for theft, as they can be easily ripped out.  That being said, if your doorbell is stolen, Ring will send you a free replacement, given you are able to provide a copy of the police report. 
Ring's Video Elite Doorbell is Relatively Expensive 
Ring's Video Elite Doorbell is an equivalent product to Dahua and Hikvision's Intercom Systems in that it is hardwired and requires professional installation. However, compared to Hikvision and Dahua's standard intercoms, it is more costly and includes less equipment/features 
While a Ring Elite system and Hikvision/Dahua package are both likely to cost approximately $900 – $1000 (including installation), Ring's Elite system does not include a monitor, PoE switch, or the cost of installation. Additionally, if the customer would like an internal monitor, buying one separately is more costly than receiving a monitor included in a package, and can sometimes pose compatibility issues. 
Storage is Only Cloud Based
Ring's Systems offer no local storage of data or video, unless you subscribe to one of their cloud storage plans. Dahua and Hikvision Intercoms can be integrated into a CCTV system for continuous local recording. 
As discussed above, while Hikvision and Dahua Intercoms are expensive compared to Ring's DIY range, however once installation is factored both systems are comparatively cheaper than Ring's like-for-like product, the Elite Doorbell. 
PoE Switch Included in Package
As discussed previously, PoE switches are likely necessary for installation as they are required to power the intercom. Dahua and Hikvision include PoE switches in their packages, while Ring does not. 
Internal Monitor Included in Package
Packages for professional-grade intercom systems supplied by Jim's Security include an internal monitor, while none of Ring's doorbells include an internal station. This means if using a professional-grade system you have the option to view your intercom from an internal monitor (a touch screen panel mounted in your home) as well as on your phone. While Ring packages only allow for viewing via smartphone. 
All professional-grade intercoms are hardwired, meaning that they receive a continuous power supply and they are connected to the internet using ethernet cable. Therefore making them more reliable as they are do not rely on batteries for power and WIFI for internet connectivity.
Supports CCTV System Integration for Continuous Local Recording to NVR
As the majority of Ring doorbells are cloud based, they are unable to be connected to local recording on NVR. However, as Hikvision and Dahua support local recording, they can easily be connected to your NVR to support continuous recording. Connecting your intercom and CCTV system also makes monitoring footage more efficient, by storing recordings in one location. 
Suitable for Domestic and Commercial Installation
Hikvision and Dahua offer a wide range of intercoms that are suited to commercial installations, including packages with vandal-proof door stations. In contrast Ring primarily sells stand-alone doorbells targeted at domestic installation.
While Ring only offers a 1 year warranty on all of its products, Jim's Security offers 3 years of warranty on all products supplied, as well as installation. 
Professional Installation Required
While professional installation can be seen as a con, in that it creates added expenses, it can also be viewed as a pro. If you are investing in a video doorbell or intercom to maintain your safety and security, wouldn't you want to know that it is installed properly and securely? A professional installer will also walk you through how to use your new system, ensuring that you are aware of all of its features and functionality. 
No Battery/WiFi Models Available
Generally, we'd recommend hard-wired models over battery models when it comes to intercom systems. However, we must acknowledge that battery and WiFi models, such as Ring's Doorbell, make a good temporary solution, for example if renting a home for a short period of time. 
Overall, if your budget allows, we would recommend investing in a professional grade security system. Here at Jim's Security we offer a number of affordable and effective Dahua and Hikvision intercom packages, however there also are a wide range of professional brands out there to choose from. 
While generally not recommended for long-term use, a Ring Doorbell may be better suited to those working with a small budget and looking for a temporary solution.