With the Christmas season fast approaching now is the time to consider installing a full security system around your property. Unfortunately, whilst many are enjoying the festive period with their family and friends, others are taking advantage of the empty houses and breaking in. According to Budget Direct, the state of Victoria reported the highest number of home break-ins during November and December 2020, followed by Queensland with 2,399 and New South Wales with the third-highest reported break-ins at 1,890.
These scary statistics are a good enough reason for you to want to protect your property, valuables, vehicles, and family.
By installing a home security system, you are not just preventing your family from theft, you are also protecting it from fire as well. Depending on the security system they can provide an early warning for smoke and heat.
Once you have made the decision to purchase a security system, you then need to choose the right one for you. With the vast range of brands on the market, this can become a little overwhelming, which is why we recommend calling the professionals at Jim's Antennas for help. What many people don't realise is that our technicians work closely with our licensed Jim's Security team to assist clients with the installation of CCTV Systems & Security Cameras, Security Alarms, Video Intercoms and Access Control.
Our team will provide a customised assessment of security options that best suit the type and structure of your property, as well as your individual security concerns and budget.
Matt from Jim's Security North Albury recently had a customer who wanted a security system for both their house and shed, as he will be travelling a lot once he retires. By having a full system installed he will have 'peace of mind' when away.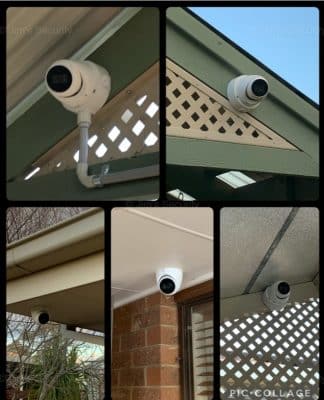 For this job, Matt installed a total of 7 x Dahua 6MP IP Al Cameras for the external house and the internal shed. He also installed our top selling alarm package, the Bosch 3000, along with 3 PIRS (which are Passive Infrared Motion Sensors). These were installed for the house and 2 PIRS were for the shed.
Matt's customer also wanted a screamer (this is connected to the alarm system and when triggered it makes a very loud noise like a siren) and 2 keypads. Both were for the house and shed. Matt was able to program so that both the house and shed could be around and disarmed during the night.
This full security system means that Matt's customer can feel safe when at home and can relax when travelling.
To find out more about protecting your property and to arrange your free onsite quote call 131 546 or book here.