The primary function of a home security system is to protect your  loved ones, possessions and property from potential break-ins, theft, violence and vandalism. By having CCTV cameras or/and an Alarm System you can potentially deter from these things from happening to you.
There are so many more benefits.
Not only can home security systems protect you and your property, they can also lower your homeowner's insurance. You are able to monitor your home whilst away, giving you peace of mind, which is priceless. You are able to keep an eye on who is in your property, which can be a big benefit if you have teenagers and you want to make sure that they are home and safe. Security systems can also alert you to fires, gas leaks & flooding.
When it comes to choosing the right home security system, it can be daunting, particularly as there are so many brands out there now. If this you, we recommend that you call on the experts, for assistance with choosing the right security system for your property, needs and budget. At Jim's Security our licensed team of experts can assist with the installation (and repair) of CCTV Systems & Security Cameras, Security Alarms, Video Intercoms & Access Control.
Our team offer a complete range of security products for both residential and commercial and supply a number of professional brands such as Bosch, Dahua and Hikvision.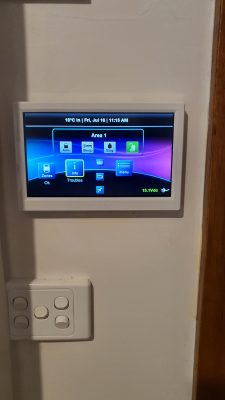 In some cases you may already have an existing security system that needs upgrading. If this is you then it's time to call on the experts at Jim's Security. Michael Rendina, from Jim's Security South Morang, had a customer who needed their 20+ year old Bosch Alarm System to be upgraded. The customer requested an alarm system, which could be controlled via a 7" touchscreen, which displays all of the functions of the alarm, along with remote control. As the home security system was for his elderly mother, he wanted to be able to have full app control and mobile notifications, as well as a panic pendant for his mother.
For this particular job, Michael installed the widely distributed in Australia & Globally, Paradox Security System. Paradox alarm systems feature reliable communication technology, flexible expansion and great-looking keypads, and an extensive range of wireless detection devices. The range includes the Magellan Hybrid Wireless alarm panel which is one of a kind with an inbuilt receiver that allows you to combine both wired and wireless devices.
Whether you are looking to purchase a home security system for the first time or need to upgrade your existing at Jim's Security your local expert can assist. Call 131 546 or book here to arrange your free onsite quote today.