Medical and Dental Clinic Security Systems – CCTV, Alarms and Access Control
You Can Trust Your Local Jim's Security Expert to Use Their Vast Experience and Expert Knowledge to Ensure You Receive the Most Suitable Security Solution for Your Clinic.
Medical practices and clinics are usually busy areas with high foot traffic. While staff are often well versed and trained to deal with all types of patients and situations, people who are sick, tired and/or in-pain can be unpredictable. There are also the added responsibilities over any medications and/or pharmaceuticals kept on site, while  also ensuring the safety of the public.
Security measures should be implemented to not only deter anti-social behaviour toward staff and patients, but also provide adequate coverage over common areas to deter medical supply theft and damage to expensive equipment, prevent unforeseen OH&S accidents and validate any patient injury accusations. 
Example Floor Plan of a Medical Centre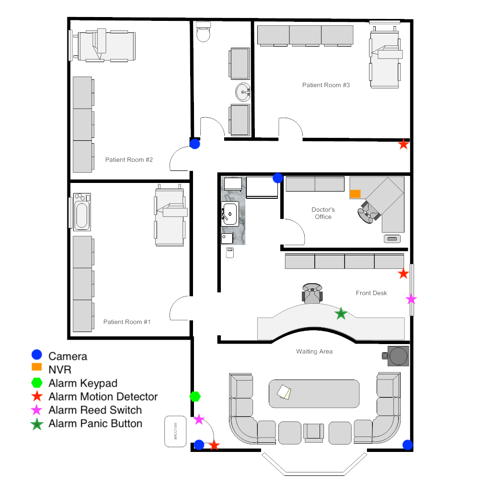 Medical and Dental Clinic Security Packages
Here at Jim's Security our experienced and highly trained technicians will assist you in tailoring a package suited to your budget and the unique requirements of your clinic. Our full security packages generally incorporate CCTV video surveillance, alarm response and monitoring, and are designed to eliminate crime related loss by:
Our team is also able to assist in installing, replacing or repairing individual components of a security system such as a set of security cameras or a security alarm.
To speak with a Jim's Security Expert Today, Please Call 131 546 or Book a Free Onsite No Obligation Quote Online.