This Dahua NVR/DVR Quick User Guide is intend to provide customers with a basic understanding of the core features of their Network Video Recorder or Digital Video Recorder.
This guide will explain how-to:
Set up Recording 
Playback from NVR
STEP 1: From the Main Menu click "Storage" which is under the "Settings" category
STEP 2: Click "Schedule" on the left side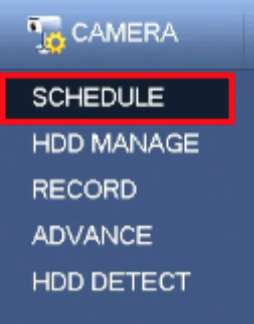 STEP 3: Click the gear icon on the right of any of the graphs 
STEP 4: Check the box for "Regular" then click the "All" box below "Copy"
Dahua NVRs and DVRs offer a range of recording options. You can also configure recording schedules (using these steps) based on the following methods:
Regular 
Motion Detection 
Alarm Based
Motion Detection & Alarm 
IVS (depending if this feature is available on your NVR model)
STEP 5: Click "Save", this will return you to the previous screen which should look like this:
STEP 6: Click "Apply" and then "Ok"
 How to Playback Recording from NVR 
STEP 1: From the Main Menu click "Search"
STEP 2: On the right hand side there will be a calendar. Click on the day that you would like to playback video. 
Select which camera you would like to playback (with higher resolution cameras, 4MP+, the amount of cameras you can playback at the same time is limited, if you reach this limit it will show a "Over Decode Ability" error
Days with light blue shading have recordings 
Days with dark blue shading do not have recordings 
STEP 3: Double click on the graph below to begin playing back video 
Enabling Motion Detection on Dahua CCTV Recorder 
STEP 1: Right click, go to "MAIN MENU"
STEP 2: Go to alarm, and where it says "VIDEO DETECTION"
STEP 3: Click on top sub menu "MOTION DETECT"
STEP 4: Go to "CHANNEL" and select channel you'd like to view
STEP 5: Click "ENABLE" (repeat steps 4 and 5 for the channels you'd like to review)
STEP 6: Go down to the bottom and hit "APPLY"
STEP 7: Go back to "MAIN MENU"
STEP 8: Under "MANAGEMENT" click "STORAGE"
STEP 9: Select "MOTION" select "ALL" for required channels, select relevant time period for which would like to motion record
STEP 10: Click "APPLY"
STEP 11: Return back to the main menu
*When playing back footage, you will see yellow snippets (indicating motion) within the green line (all footage). You can then select to view footage where motion has been captured. 
The video linked below provides a visual guide to enabling detection: 
If you require further assistance setting up or installing your Dahua NVR or DVR system give us a call on 131 546, or book a free onsite no obligation quote online.