Following a recent spate of robberies in the neighbourhood, Daniel from Jim's Security Adelaide was asked to install a security system for a home in the Western Suburbs. 
Visible CCTV systems have been admitted to be one of the best deterrents by former burglars. However, there are many additional features of a CCTV system which can also add further protection to your home. When completing this job, Daniel went above and beyond to find a system that would best suit this family's home, lifestyle, and needs.
Firstly, Daniel recommended a Dahua CCTV system. While a security system will provide notification of an event, CCTV will allow you to both capture evidence through recorded footage and the ability to remotely view your property to check if any break-ins have actually occurred. As such, if concerned about the safety of their home, this family will be able to monitor it while they're away at work and the kids are at school, or even during a holiday.
The 

Dahua CCTV System

 comes with 4 channel NVR, with two six megapixel cameras and two eight mega-pixel cameras. The high resolution of both cameras help to ensure that in the unfortunate event of a break-in, the perpetrator will be more easily identifiable.
 This is also aided by the fact that the Dahua system uses Starlight IP cameras. These cameras have special starlight sensors to provide improved night vision in low light conditions, and also offer a coloured image at night. Amazingly, they are able to give you sharper and clearer images than your own eyes in 0 lux conditions (darkness).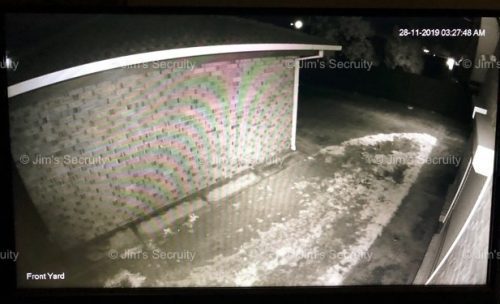 In conjunction with
the Dahua CCTV System, Daniel suggested that the family install a

Paradox MG5050 Alarm

. This alarm allows you to combine both wired and wireless detection devices in one. When installing the Paradox MG5050 Daniel's clients requested that alarm system be setup to control the activation of a number external devices including the garage door. This is completed through smart phone app. In order to do this, Daniel had to pair the alarm with an an IP150 module.
A 5" interactive touchscreen was also installed to allow Daniel's clients even more control of their system, and improve its usability. The Paradox alarm will allow you to partition your home into two separate zones, and information is available, real time, of every area and zone. Letting you know if an alarm was triggered, and which room it is in. And bonus, it's also pet friendly!
The Paradox MG5050 Alarm doesn't just keep you safe and help prevent false alarms (thanks to your dog or cat). It's also pretty sleek. The keypad comes with a range additional functions to suit the interior of your home. For example, a customisable home page, and a media slot to display a photo slide show when the tablet is not in use. Extra functions also include an indoor temperature sensor, floor screen and annunciator modes.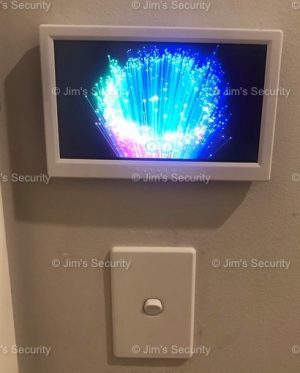 It's always better to be safe than sorry. If you're concerned about the security of your home, why not give us a call? Contact us on 131 546 or book a free onsite quote. To ensure that you have peace of mind.