Here at Jim's Security we get a lot of enquiries from customers wanting to add a security/CCTV system to a new home build. In most cases, these customers have been offered a system by their builder. But this often ends up being the most expensive option and doesn't always give the customer the best solution. Builders will generally subcontract a security installation to an electrician, rather than an expert installer, resulting in a higher price and often a poorly designed and implemented security solution. So, you may be wondering, what other alternatives are there when installing a security system in my new home?
When it comes to installing a CCTV and alarm security system in a new build there are 4 options:
Builder supplies and installs your security system

Builder does pre wiring & fit-off, commissioning is done by a security company

Security company pre wires, comes back to fit-off and commission

Installation is done by security company after the build is completed
Option 1: Builder supplies and installs your security system
The benefits of having a builder supply and install your security system is that these expenses can be included in your mortgage. Doing things this way may also help reduce the stress and confusion onsite as there is only a single person (your builder) overseeing each aspect of the new build. That being said, sometimes it's best not to put all your eggs in one basket.
The security hardware supplied by subcontracted electricians often comes at a pretty penny. In many cases, builders work on a simple model where they add a +20% margin to the work that they have sub-contracted. By going directly to a security company, you can quickly cut that extra 20%. Security experts also offer significantly lower prices on hardware as they have stronger relationships with security wholesale sellers.
Having your security system installed by a professional guarantees that the hardware is fitted in a way that achieves the best results. In our time, we've seen a few horror builder supply and installs where electricians have wired cameras to areas of the house with low to no visibility!
We also receive regular enquiries from customers after they have moved into a new home with a security system fitted by their builder. These clients come to us because they haven't been able to contact or receive any support from their builder when it comes to fixing issues with their new system. In other cases, the service charge of the security company that installed the system at the direction of the builder is too exorbitant or the service is poor.
At Jim's Security all CCTV and alarm systems come with a three-year warranty, together with the Jim's work guarantee. Our local franchisees are also always readily available to lend a helping hand and answer any questions or queries you may have about your system.
Option 2: Builder Pre wires, fit-off and commissioning is done by security company
This is a good option for homes that are difficult to wire once completed, such as two storey homes with limited roof space access. But, the major pitfall is that security companies will not provide a warranty on the wiring of the hardware they install as this was done by the builder.
For example, when installing a set of cameras during a recent fit off job, Tim from Jim's Security, noticed that one of the cameras was flickering a lot and not performing to its required standard.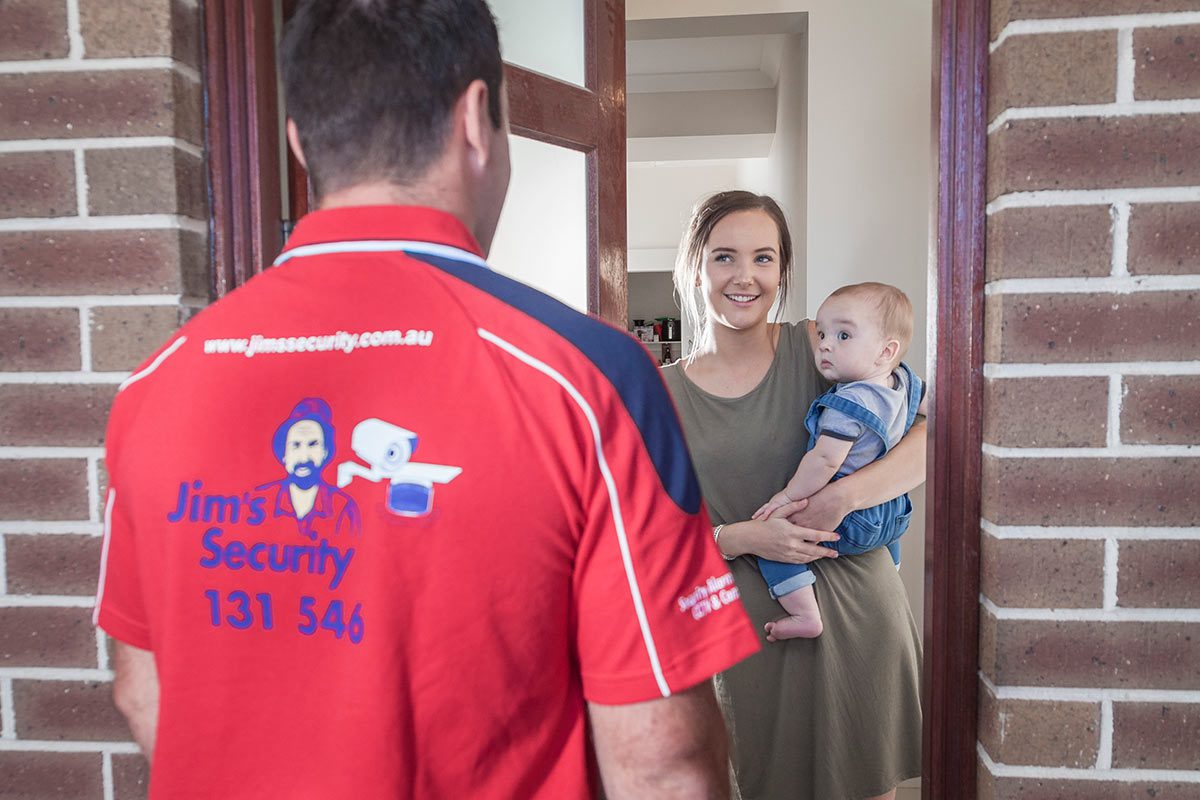 After a quick inspection of the cabling, Tim realised that subcontractor who had done the pre-wiring hadn't left enough slack to pull the wiring through. In the end, for the cameras to operate properly, the wiring had to be replaced. Unfortunately the price of this couldn't be covered under the Jim's Security Work Guarantee (as we were not involved in the wiring process) leaving the homeowner with unnecessary additional costs. 
You should also keep in mind that because builder-done installs are often not completed by security professionals, there's always the risk that cables will sometimes be run to areas that are not suitable to place security cameras…remember those horror stories we were talking about? 
Option 3: Security company pre wires, comes back to fit-off and commission
This is a great choice for homes that are difficult to wire once completed, and in most cases the best option if you are seeking to pre-wire your home. The wiring is done by security professionals, ensuring that cabling is run to places around the home that are appropriate to place CCTV cameras.
Not to mention that an experienced security professional will be able to tailor a security system that is specific to your home and lifestyle. The only con is the risk that the cabling/pre-wiring may be damaged by other trades. 
If you are considering having a security company fit off and commission or install your security system, we'd always recommend first consulting with your builder. In some cases builders may not allow security installers onsite.
Option 4: Installation is done after the build is completed
Having your system installed by a specialist security company after the build is completed is usually the best value choice, and ensures that your entire system is designed end to end by a security expert.
The only con of this option is that wiring post-build may not be suitable for all houses. Installation after a build is completed is best suited to single storey houses with pitched roofs, and less appropriate for two-storey houses. This is because in a multi-level home, you'd often want to have cameras halfway the house (to get the best Field of View) making wiring difficult to do post-build, even with access to the roof.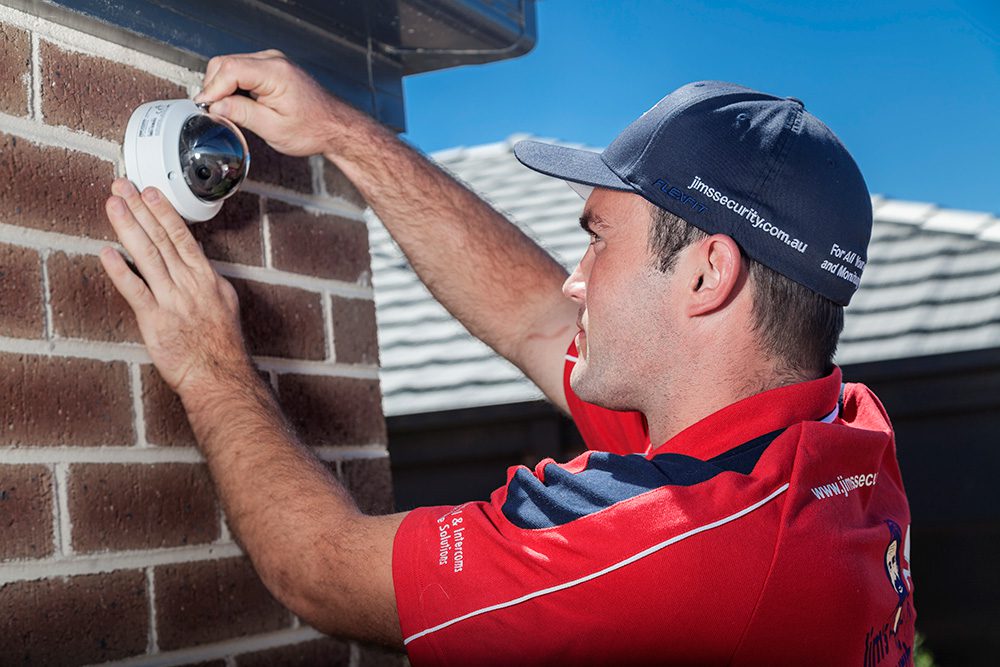 When it comes to implementing security solutions for your new home, we would almost always recommend going for wired CCTV system. However, alarms offer a bit more flexibility.
While in most cases it is recommend that you pre-wire/post-wire your alarm alongside your CCTV system. If you are unable to fit the wiring for your alarm, there are a multitude of proven wireless alarm options out there, several of which have a battery life of up to 5 years.
Here at Jim's Security, we will ensure that your new security system is installed to achieve maximum performance and is specifically tailored to the individual aspects of your new home and lifestyle. All work done is also backed by the Jim's Work Guarantee, all security hardware comes with a three-year manufacturer warranty and we are proud to offer local, easily available and friendly customer support. Give us a call on 131 546 or book a free onsite quote.