A point-to-point protocol (PPP) is a dedicated network connection between two devices. This link can be, and is often used in conjunction with CCTV camera systems. Often in cases where there is a long distance between cameras on the same property.
PPP links aren't just limited to connecting CCTV cameras, they can be used to extend any data network. For example, a school might use a wireless link to broaden the range and strengthen the quality of Wi-Fi between its buildings.
On a recent job, Daniel from Jim's Security Adelaide was asked to install a security system that would cover his client's Strathalbyn estate. As two main components of the property (the client's home and shed) were a fair distance apart, a PPP network was required.
In order to create a PPP network, Dan had to install an access point on his client's shed. This is the hardware which enables cameras that would otherwise be out of the home's wifi signal range to connect to the same WiFi network as the rest of the camera system.
Connecting the set of cameras to the same network creates a wireless link between the two locations. Data will be sent back through the same wireless link, meaning that Daniel's client will only require one NVR rather than two – saving them money and time.
Another advantage of this is set up is that the footage from the cameras can be viewed on one device, rather than two separate devices. In the case that an access point was not installed, Daniel's client would be able to view the footage from his home, anywhere they pleased (as it is backed up by WiFi), but would only be able to view their footage from the shed in the shed itself. This is unless they fitted the shed with its own WiFi router and connection.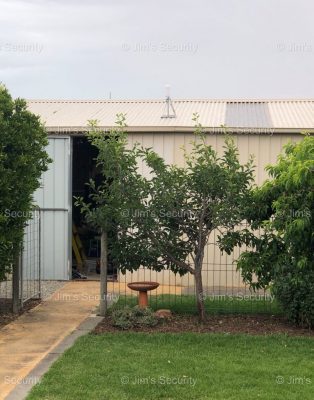 Are you looking to optimise your security system set up? Here at Jim's Security we're always here to lend a helping hand. For assistance with any of your security needs, contact us on 131 546 or book a free onsite quote.