The impact of break-ins can be devastating. Not only can you lose valuables or end up with vandalised property, but you can also be left feeling unsafe and vulnerable in your own home. Scarily, according to Budget Direct, Australia had the 6th highest rate of burglaries in the World. So, if you have been considering a security system for your home or business, you are onto a good thing.
By installing a home security system, you will protect your family and valuables from potential break-ins, theft, vandalism, and violence. Criminals are deterred from intruding when they see cameras surrounding the property.
But it's not just about protecting your home. Security systems are also vital to your business. They can keep an eye on your inventory, employees, clients, and the property. In some cases, having a security camera can reduce your insurance.
Once you have made the decision to protect your property or business the next step is to call the experts at Jim's Security. Each of our franchisees are individual business owners that are your local security experts. We offer our customers service and installation of the following: Security Alarms, CCTV Systems and Security Cameras, Professional Monitoring, Medical Alarms, Intercoms, Access Control and Building Site Protection. We are a trusted brand, and all work is backed by the Jim's Guarantee, all franchisees are Licenced & Police Checked.
Your local Security expert will provide a customised assessment of your security options that best suit structure of your property and fit within your budget.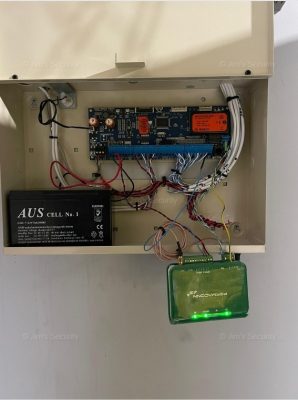 At Jim's Security we have a selection of products for you to choose from. One of our popular Alarm Systems which is the perfect solution for homes and businesses, is the Bosch Solution 6000. This alarm system can be expanded to support up to 144 zones. At Jim's Security we have two packages for our customers to choose from – The Standard Alarm Package and Interactive Alarm Package. Both have integrated access control, supports both wired and wire-free installation and as mentioned can be expanded to support up to 144 zones, 16 access doors or readers and 990 users.
To find out more about protecting your property or business and to book in your free onsite quote call 131 546 or book here.
Photo Courtesy of Connor from Jim's Security Brighton- Bosch 6000 panel being set up.