Jim's Security Franchisee Q&A
Jim's Security and Jim's Antennas, both divisions of the Jim's Group of companies, have come together to form Jim's Digital. With 150+ franchises in our group and combined turnover of +$35M we are the largest home technology service business in Australia. We attribute our success to many years in the industry, regular training to stay on top of the latest technology, outstanding service and a great team.
Here's what some of our Franchisees have to say about their experience working with Jim's Security: 
Dan: Jim's Security Glenelg North region, Adelaide. Joined 2018.
What were you doing before the Jim's franchise?
Before I joined Jim's I was working in a very similar industry. I owned and operated a small business doing electronics installations, mainly high-end AV and home automation. Back then I had 6 employees, including an electrician as part of our team, which allowed us to work within a fairly broad scope of electronics. But it was probably 12-24 months before I joined Jim's Security that we started doing a lot more security and CCTV, and that's what raised my interest in the area.
Why did you decide to make the change?
I decided to buy into a franchise because as an owner of a small business I was finding it difficult to take care of everything myself. I struggled to juggle the 'behind the scenes' aspects of my company such as marketing and website development alongside providing a service. But, I still wanted to grow my security business, so it made a lot of sense to buy the Jim's franchise and add this to my existing operations.
Why Jims group and why Jim's security?
The main reason I chose Jim's was because of the brand. I've always looked at Jim's Antennas as quite a strong name and that's what I think that Security also has the potential to be – even now, as our business is growing rapidly, I still see a lot of room for growth.
Has it been a good financial decision?
 Yes, definitely, I can see a big difference in my margins now I'm with a strong brand. Customers don't expect Jim's to be the cheapest quote as most value the benefits of the customer service guarantee and the Jim's Group Warranty.  I've also been very happy with the quality and volume of leads coming through Jim's, it would have taken a lot of time and money for me to generate those leads myself.
What advice would you give to someone looking at a franchise with security?
My biggest piece of advice is that you get out what you put in. It's not going to be easy to start a new business and learn something new at the same time. It will take a fair bit of commitment and patience. If you're new or even just interested, I would also recommend asking plenty of questions, because we're all here to help.
As a franchisee, I think that the right person for this role is someone who has good customer-service skills, who is friendly and able to quickly build rapport. We can easily teach new franchisees the technical side of things, and show them how to install hardware.
What are your future plans for Jim's?
My plan from the beginning with Jim's was to just see how it went, and let the journey go as it may. So far the experience with the group has been really good – all the guys are great to deal with, and that's probably made me even more comfortable in making the decision that I would like to spend more time at Jim's, than I would away.
Jim's Security is where I see my future, and my experience as a franchisee is a large part of the reason why I've recently decided to become a franchisor. As a Security Franchisor I want to help build a strong group of people that can assist with the growth of Jim's Security as a whole – but also allow them to manage their own independent individual businesses, meaning that they're no longer reliant on me, but I'm here if they need me.
Shaun: Jim's Security Diamond Creek region, Victoria. Joined 2018.
What were you doing before the Jim's franchise?
Before I joined Jim's I was working with a Telstra contractor doing copper fixed-line and ADSL faults. I did that job for two years. Before that, I was over at the Telstra office as part of the TIO escalation team. I decided to move out of that job and onto the tools because I wanted to earn more money, and I've been working in this area ever since.
Why did you decide to make the change?
Sorry to be a bit boring, but I wanted to earn more money! In my previous roles I working up to six days but my income was limited to the hourly or job rate set by my employers and this wasn't enough for me as I have a young family. My friend told me about an opportunity to join Jim's Security and increase my earning potential, so I decided to give it a go.
Why Jims group and why Jim's security?
Like I mentioned, my mate told me about it. But, before that I didn't know much about Jim's Group. All I knew was that it was a big company, so I could trust that the process of starting up and being looked after from the beginning would be reliable. It was reassuring to have had been referred to the company by a friend, and to be familiar with the brand name. If it was a small company, I probably wouldn't have done it.
Being one of the original members of the Jim's Security team, I had to take a bit of a leap of faith – but it paid off in the end. Over the last couple of years, we've built up a good team of experienced installers in Melbourne, so there's a lot more support for the new franchisees joining now.
How did you find the start-up phase and did having access to antenna work help?
At first, I won't lie, the start-up phase was tough – but it was a good learning experience. Initially, I struggled to factor in my expenses properly and I also had to learn through experience and training how to convert leads, and not become too fixated on the ones I'd lost.
During the start-up phase Security jobs were definitely there, but they were sporadic and a bit harder to convert. I might have gotten 3 to 5 Security leads a week, and only converted one or two. In-between I was doing lots of antenna jobs.
Having antenna work was very helpful. The appeal with antennas is that you can quote, convert, do installations and collect money all at once. It's good for cash flow and when you're learning to sell antenna work allows you to build up confidence in the sales area. Selling a $300 antenna was a lot easier than selling a $2000-dollar security system.
Although I did a fair bit of Antenna work in the beginning, I gradually phased it out because I prefer the nature of Security work. But, honestly, if someone has a lot experience in the field and they're really good at selling themselves, they could just jump straight into Security now. But, of course having antennas is a bonus.
Has it been a good financial decision? 
It has been. I make about 30% more than I did working for Telstra and I work less hours. I usually do about 3 large jobs a week and maybe a few smaller ones. At Jim's I definitely don't work as hard as I used to with the Telstra job, but the work I do here is more challenging technically and physically. I also enjoy the flexibility that I have, because I can take days off as I please.
What advice would you give to someone looking at a franchise with security?
Be prepared to work hard and don't become too focused on whether you win or lose a lead, after all it's just one job. There is always heaps of work to be done out there, and more leads will come your way. It is also vital that you are results oriented and prepared to look at the bottom line –keep on top of your expenses, and know how much profit you are making from month to month.
What are your future plans?
I am looking to take on an employee in the future to increase my earning potential. Once I've got them set up, I will shift my focus more towards quoting and supervising work, rather than always being on the tools.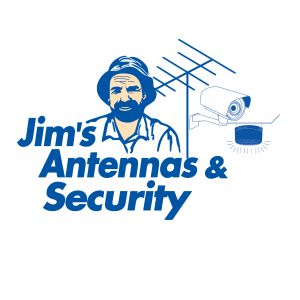 Why Security & Antenna's?
The joining of Jim's Security and Jim's Antennas creates an exciting opportunity to operate a dual franchise business within regional towns in across Australia. Our experience has shown that security and antenna work makes a great combination. The skillset for Antenna and Security work is complimentary
with cabling the key competency required for both industries. This is also of benefit to franchisees in our capital cities where franchisees can have access to work from either division. 
Antenna work is consistent with jobs converting more quickly, providing a good stable cash flow for your business. Security is a high growth industry, and the addition of higher value security work gives you an opportunity to significantly boost your bottom line.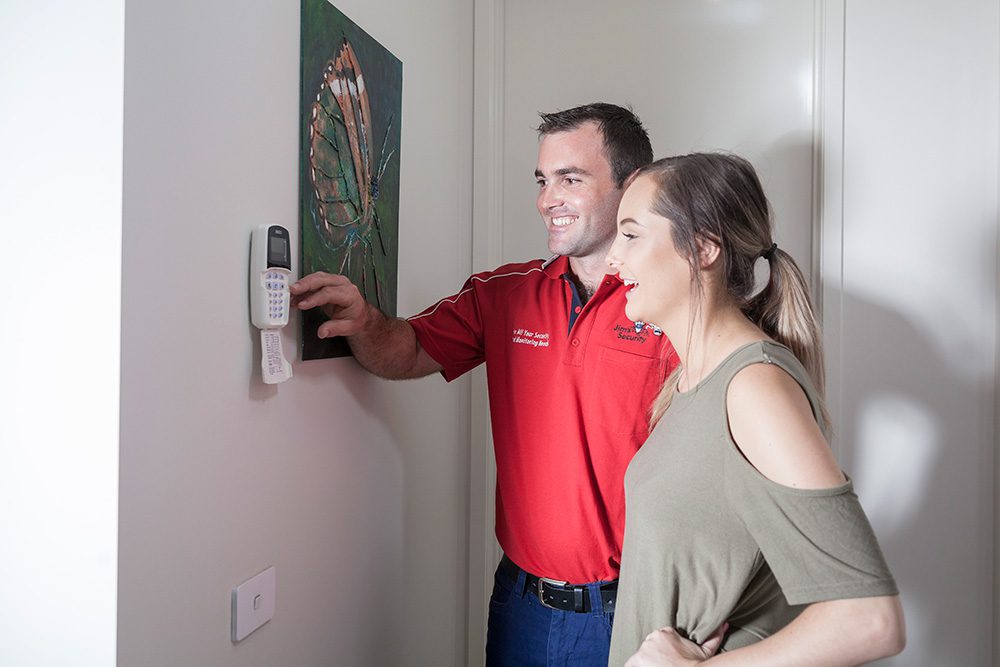 OPERATE YOUR OWN BUSINESS – with the marketing, backing and support of Australia largest, most respected, trusted and highly successful franchise company – the Jim's Group.
 FULL TRAINING PROVIDED
– for not only the initial set-up of your business, but also ongoing management assistance and for the sales/supply/installation, of the latest technology in Antennas and Security divisional equipment.
 DEVELOP A VALUED BUSINESS
– become a one-stop audio-visual and security provider to business and residential customers
If you would like to find out more about becoming a franchsiee please fill out the form below and we will be on touch. As a first step we can put in you contact with one of our existing franchisees for a chat or even organise a day out on the road.